Rather than focus simply on sales, Softcreate Holdings aims to improve results by taking a utilitarian approach to management.
We are constantly staying one step ahead of the times by adapting our business to changing market needs.
Being able to speedily put in practice a universal corporate strategy is an essential quality for companies wishing to get ahead in the 21st century.
Our stance has been to pursue profits while keeping a firm eye on the future.
Management Philosophy
Corporate Mission
Our sales and technical experts jointly provide optimized IT solution services to medium-sized companies as well as departments within major corporations, and through this we aim to be a "best partner" rather than simply a "contractor" to customer companies contributing to society and to aid the growth of such companies.
"Best partner solution provider"
Corporate slogan
"Speed & Change"
Our corporate slogan of "Speed & Change" is based on the concept of adaptability to changing times and a fearless "challenging spirit", and we are always striving to develop our business one step ahead of the times.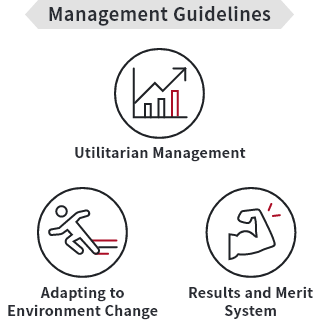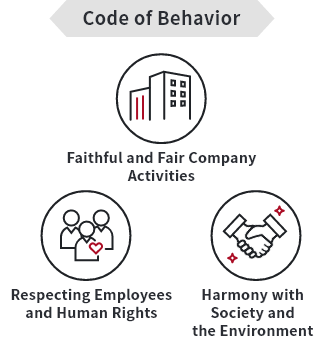 Management Vision
By focusing on our growth business of software product development and sales, we have sought to improve our results and profitability and become a high-profit company founded on a "web solution service".
Management-focused policy (dealing with management issues)
Expanding our EC solution business areas
Strengthening software products and sales and development systems
Acquiring and developing excellent human resources
Basic policy regarding profit sharing
In order to, first, enhance internal reserves to reinforce our management base and financial structure and expand our future business and to, second, continuously pay dividends based on results as a way of distributing profits to shareholders, we have made it a fundamental policy to pay dividends at a payout ratio of about 30% twice a year, mid-term and at the end of the term.
It is specified in the articles of incorporation that, unless otherwise provided for in laws and regulations, matters regarding dividend of surplus are determined by the board of directors and that mid-term dividends and other surpluses may be paid.
IR activities
Basic IR policy
Softcreate Holdings constantly aims to meet the needs of our shareholders and investors.
To continue to maintain a correct relationship with shareholders and investors, we disclose information in the "Investors Information" page of our website to ensure fair and instant distribution of information.
IR activity objectives
The aim of our IR activities is to disclose information to shareholders and investors in a sincere and fair manner so that they can rightfully assess the value of our company.
IR activities
In view of the above stated IR activities, we believe that we have to provide information regarding management strategy that fully meets shareholders and investors requirements. We, therefore, provide opportunities to communicate directly with shareholders and investors such as at general shareholders' meetings and briefings aimed at individual and institutional investors, and analysts.
Our aim is to clearly, fairly and speedily communicate information, such as business and financial details and management strategy, via our website.
Items concerning future projections
The information we choose to disclose is based on the information currently available, and it does not promise or guarantee future results. Uncertainties are inherent in earnings forecasts, and there are times when actual results differ to these forecasts. Accordingly, please refrain from making investment decisions that fully rely on these earnings forecasts.